I recently made some fun, wooden letters for my best friend's baby nursery. I do so many things for girls so I was thrilled to get the opportunity to create decor for a little boy's room. I can make these custom for your nursery or children's rooms and they can be found on my Etsy store. If you have any questions feel free to email me. This is how my little creation started and ended up.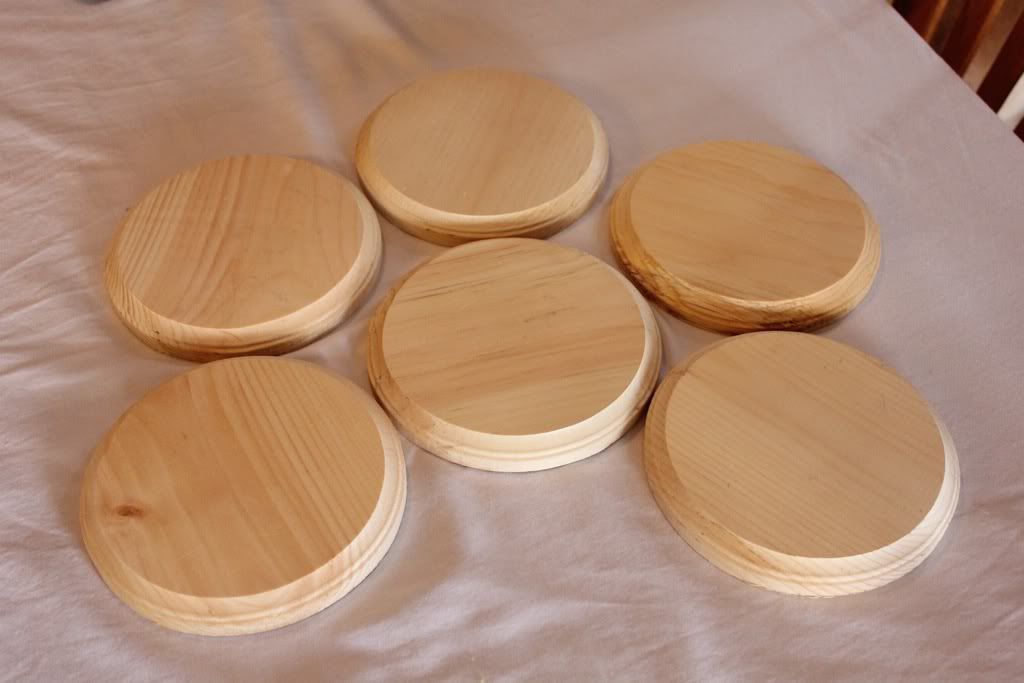 I started with six wooden circles that I bought from Hobby Lobby.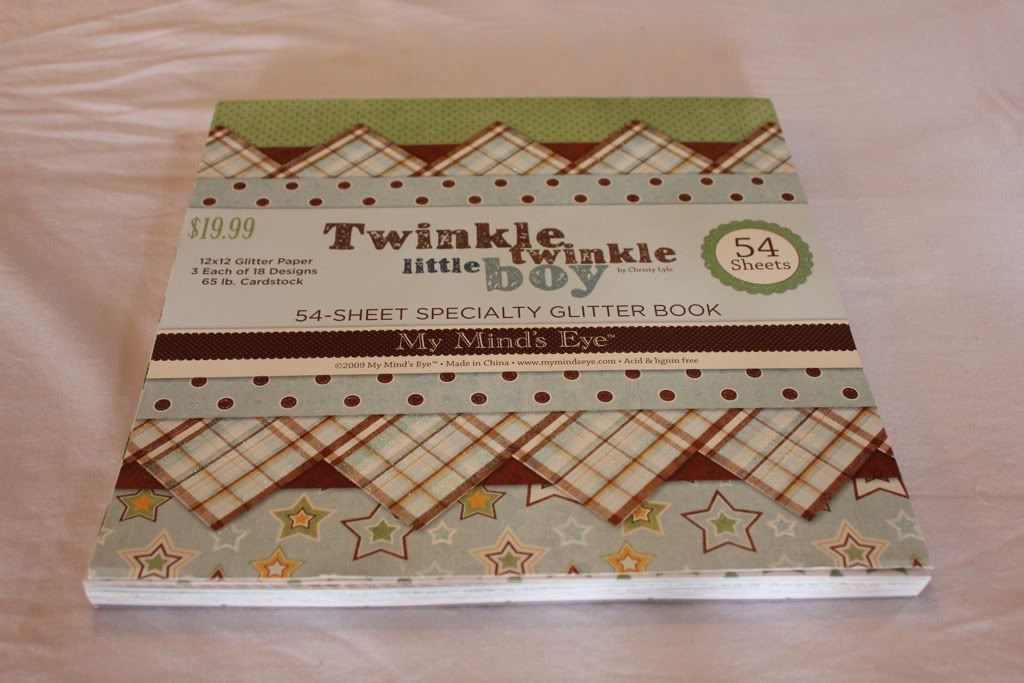 After searching through the single paper scrapbook area I decided to go with a scrapbook paper book called "Twinkle Twinkle Little Boy". I loved how the patterns and colors all seemed to work together.
I took the first circle, flipped it over, and traced it on the white side of the scrapbook paper that I would be using for that particular circle. I continued this for all six circles, but on different sheets of paper. I wanted the paper patterns and designs to alternate from circle to circle.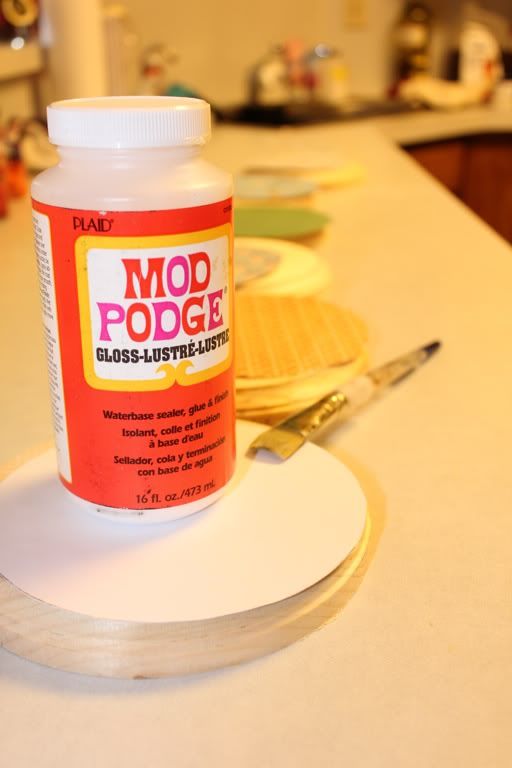 Once I cut them I used Modge Podge to place each circle on the wood.
Then I used Liquitex Gloss Varnish (one of my favorite products) to paint over the top of the paper. I wanted a light gloss on these letters, but on other projects I have used several layers of this gloss to create a shiny, glass-like appearance.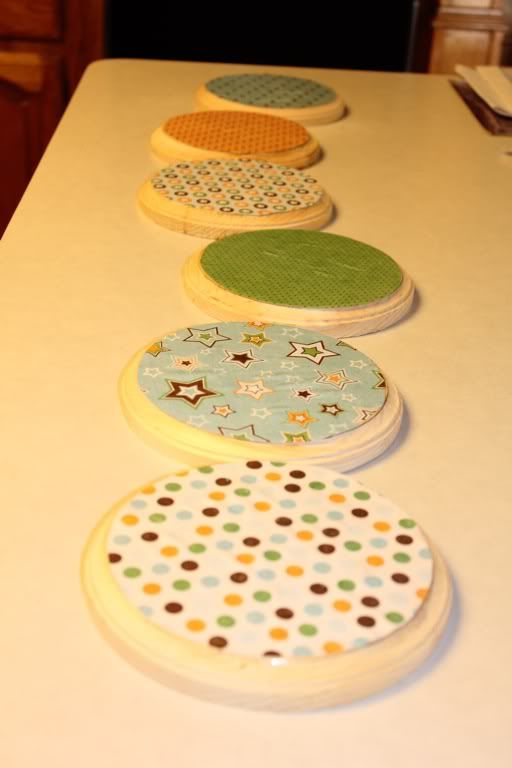 This is what they should look like once you put the varnish on. It may looked bubbled in areas, but don't worry it will all smooth out! It always startles me at first when I do these projects and see how it gets bubbled at first. Once it dries it's all good.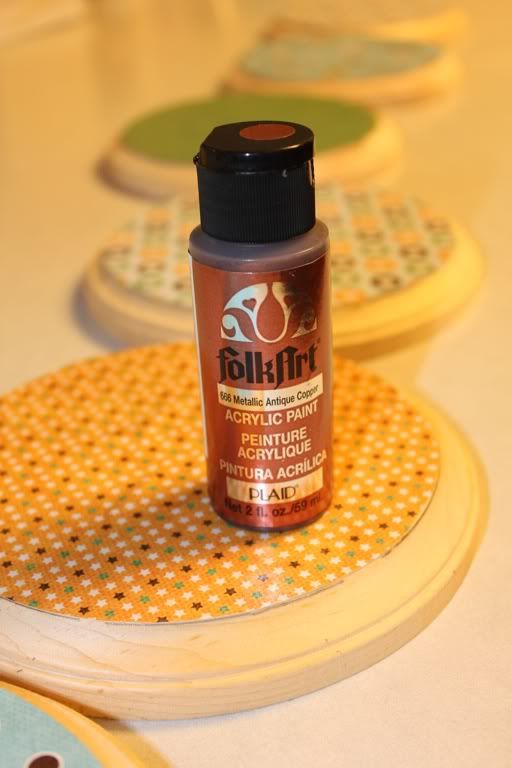 I usually like painting the edges of these types of projects first, but I was excited about getting this one started so I skipped doing the painting first. I love to paint, but for whatever reason I always dread painting the edges of my letters, crosses, peace signs, etc.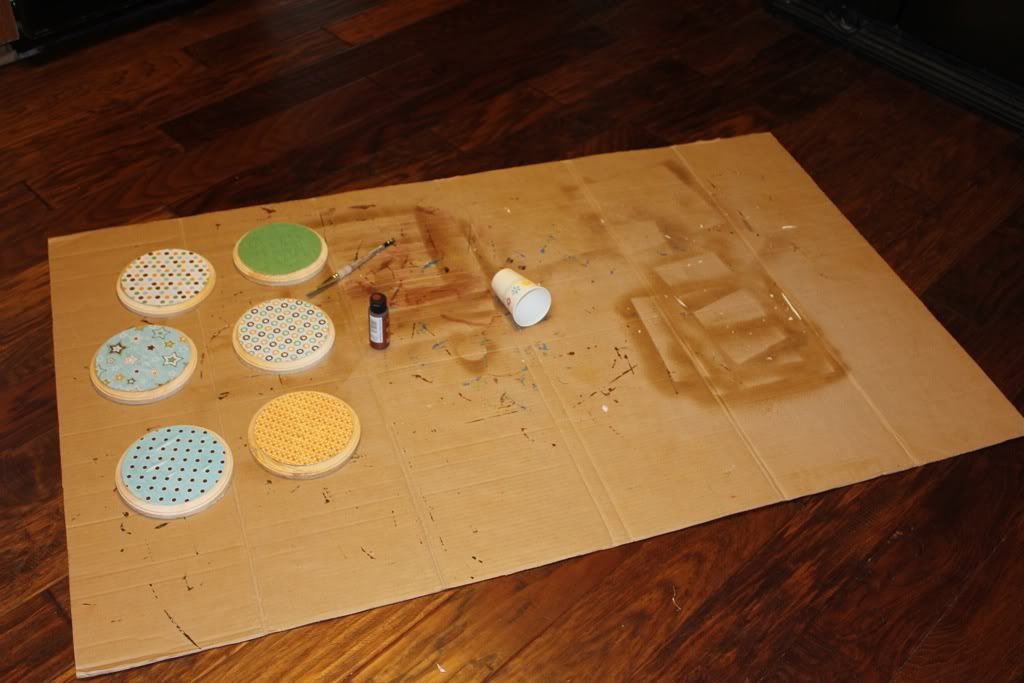 I have pretty much destroyed my dining room table because of all my crafts so I now use this large piece of cardboard. It's actually my measurement board for sewing, but it really doesn't matter how ugly the other side gets does it?!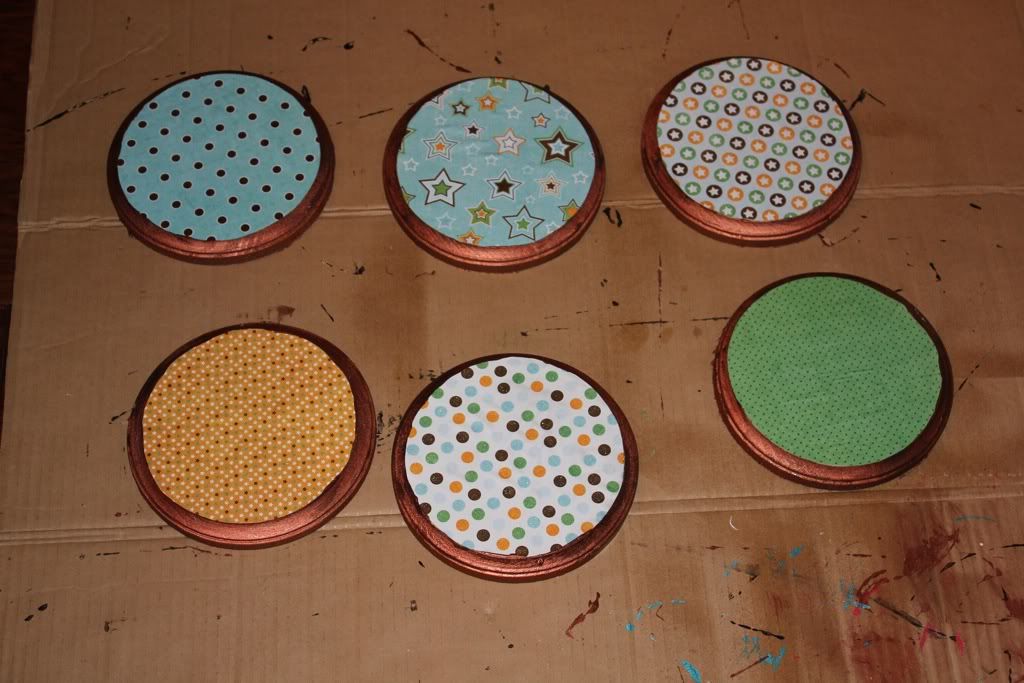 Here are the circles with the painted edges.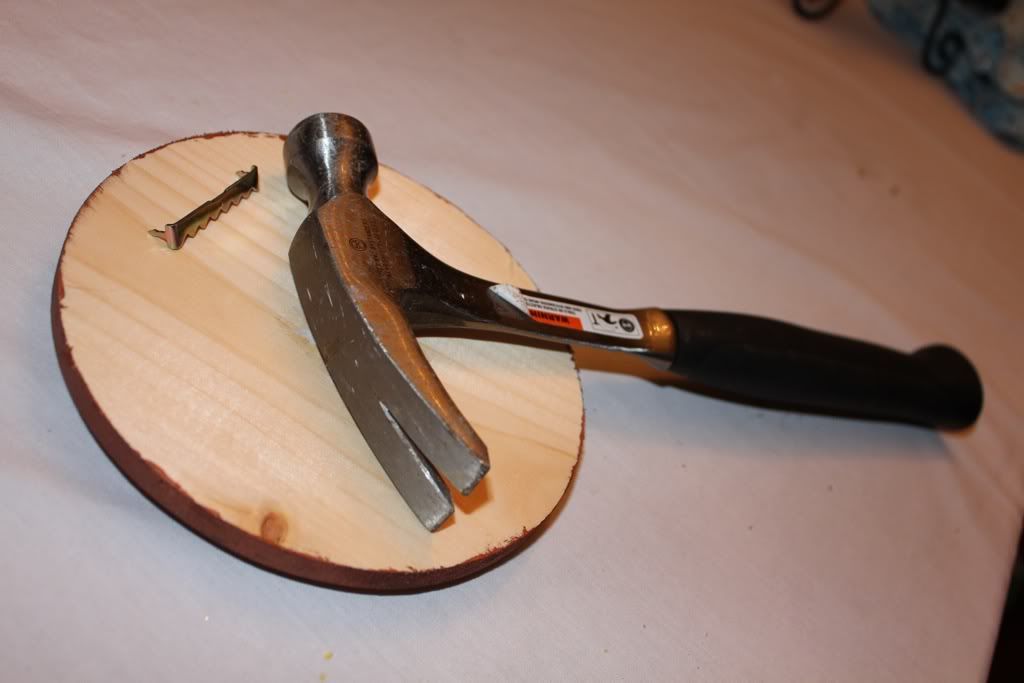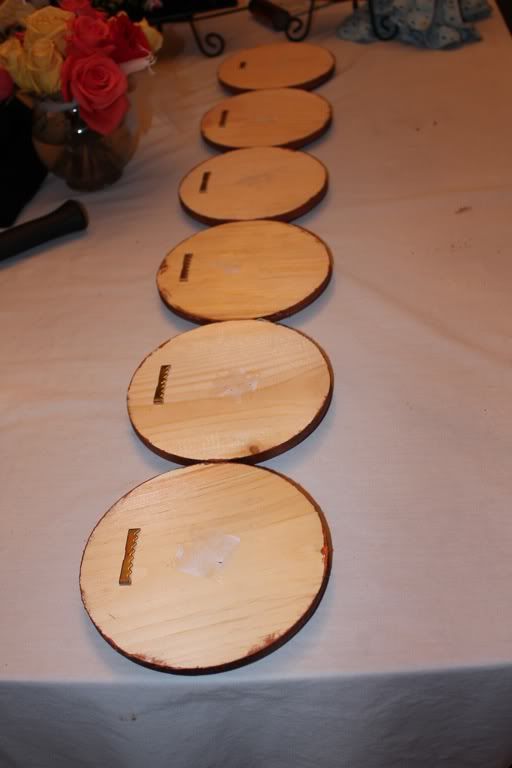 I suggest putting the hangers on the back before putting anything on the front. I have made the mistake of putting the hangers on last, which usually ruins, or knocks off whatever I have accomplished on the front.
I found these fun letters at Hobby Lobby (where else?). I wasn't a fan of the gold so I decided to paint over them with the same paint I used on the wood so it would all coordinate.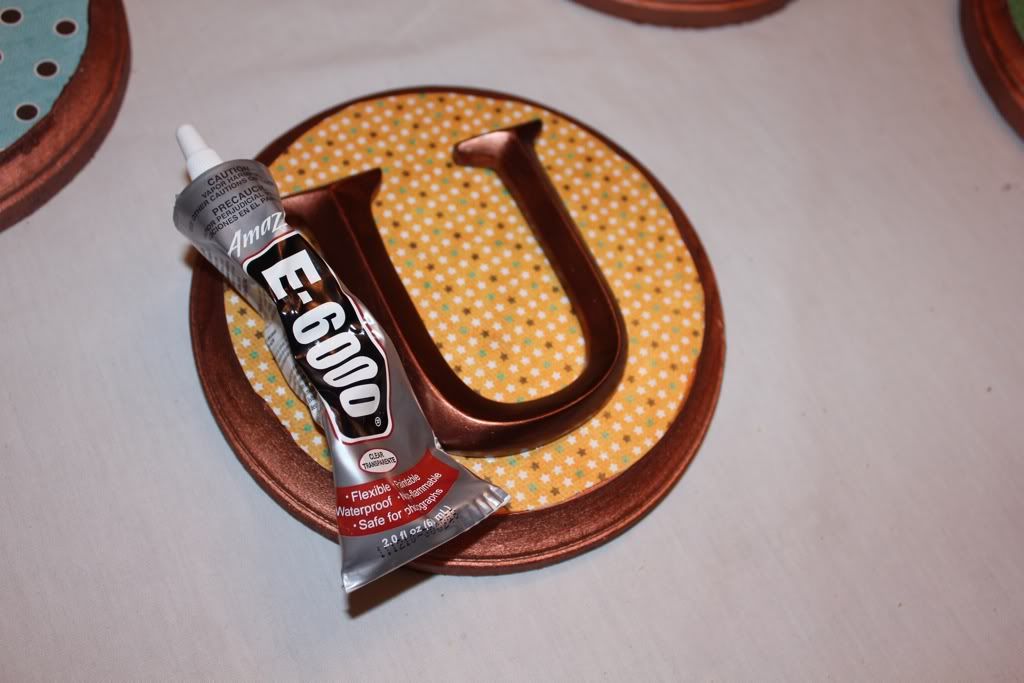 I used E6000 (best glue ever!) to adhere the letters to the circles.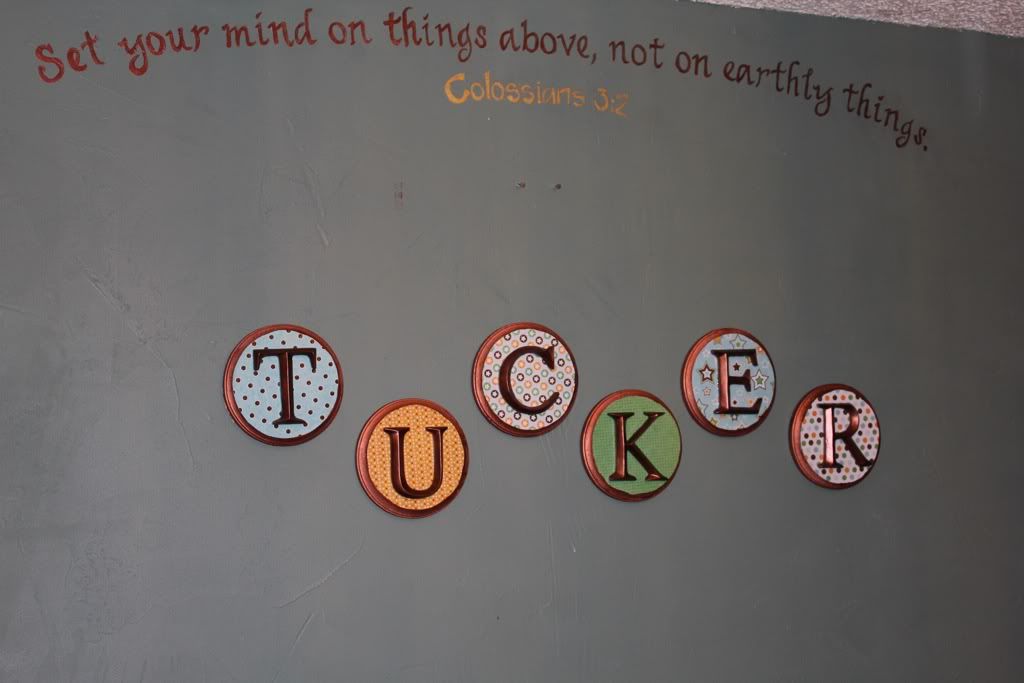 I hung them up on our dining room wall with some of my sewing straight pins. My mother-in-law has told me she uses straight pins to hang things up on her walls and I couldn't believe that they are strong enough, but I was wrong! I am always damaging my walls with nails. Not anymore!
I will have pictures of "Tucker" in the actual nursery they belong in soon.